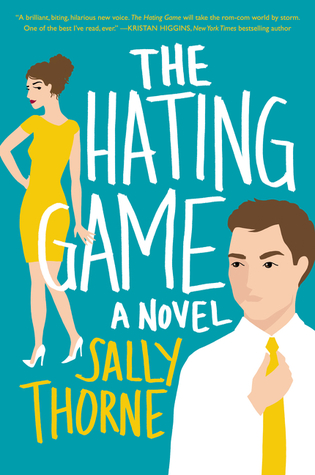 Series: Standalone
Published by: William Morrow
Genre: Contemporary, Adult
Pages: 387
Source: Paper, Hardcover
Rating: ✬✬✬✬
Synopsis:
Nemesis (n.)
1) An opponent or rival whom a person cannot best or overcome;
2) A person's undoing;
3) Joshua Templeman.
Lucy Hutton and Joshua Templeman hate each other. Not dislike. Not begrudgingly tolerate. Hate. And they have no problem displaying their feelings through a series of ritualistic passive aggressive maneuvers as they sit across from each other, executive assistants to co-CEOs of a publishing company. Lucy can't understand Joshua's joyless, uptight, meticulous approach to his job. Joshua is clearly baffled by Lucy's overly bright clothes, quirkiness, and Pollyanna attitude.
Now up for the same promotion, their battle of wills has come to a head and Lucy refuses to back down when their latest game could cost her her dream job…But the tension between Lucy and Joshua has also reached its boiling point, and Lucy is discovering that maybe she doesn't hate Joshua. And maybe, he doesn't hate her either. Or maybe this is just another game.
Favorite Quote
"I'm probably not good at a lot of things, but I will try to be"  
Thoughts
Did you hear that? My heart just exploded.
Holy shit. This book. This book was freaking hilarious. It was also cute and sexy and heartwarming and just everything I needed in a love story. Slow burning romance? Sexual tension? Constant battle of wits? Yes, yes, and yes.
I had a little bit of a hard time getting into the story at first. I didn't really like how it was written. Once I did get into the story, I fell in love with the characters.
Sometimes Lucy bothered me but I think it's because I could see myself in her a little bit. I loved Josh, too. He reminded me of my boyfriend. Honestly, their whole relationship almost reminded me of my boyfriend and i's except hating each other lulz.
This book had great pacing. It was incredibly easy to read and extremely hard to put down. I became invested in the characters lives. I wanted to be their best friends. Even Lucy's boss was fantastic.
Highly recommend this book is you want a light, fluffy, hilarious summer read. I promise it doesn't disappoint. Holy wow.