*Disclaimer: I received this book from Edelweiss in exchange for an honest review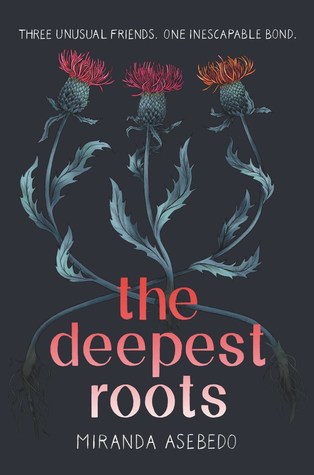 Series: Standalone
Published by: HarperTeen
Genre: Contemporary, Magic  Realism, Young Adult
Pages: 320
Source: ARC from Edelweiss
Rating: ✬✬✬✬
Synopsis:
Contemporary with the slightest twist of magic, this stunning debut YA novel is a fresh and heartwarming story about the power of friendship.
Cottonwood Hollow, Kansas, is a strange place. For the past century, every girl has been born with a special talent, like the ability to Fix any object, Heal any wound, or Find what is missing.
Best friends Rome, Lux, and Mercy all have similar talents, but to them, their abilities often feel like a curse. Rome may be able to Fix anything she touches, but that won't help her mom pay rent or make it any easier to confide in Lux and Mercy about what's going on at home. And Rome isn't the only one. Lux has been hiding bigger, more dangerous secrets.
As Rome struggles to keep her friendships close, she discovers the truth about life in Cottonwood Hollow—that friends are stronger than curses, that trust is worth the risk, and sometimes, what you've been looking for has been under your feet the whole time.
Favorite Quote
"We were more than girls from Cottonwood Hollow. We were blood sisters. Sworn to never turn away from each other."
Thoughts
This book was extremely interesting. It was kind of like a contemporary novel with a little paranormal and magic, if you will, intertwined. I really enjoyed the friendship in the story. The relationship between 3 friends, 3 girls was really refreshing. I don't read many stories with a lot of girl friends. There's usually a best guy friend and the mean girls.
I also enjoyed that this book had a small town feel. Everyone knew everyone. I can relate because I, too, grew up in a small town where everyone knows everyone. It's so powerful when you see people in a small town come together as a community, a family. I love that!
This book was very easy to read. The story flows really well. From page one, I was hooked. The characters were really relatable. Miranda did a nice job making the characters feel like sisters instead of just best friends.
However, I felt that some aspects of the story felt a little pointless. One being the romance in the story. The romance felt non existence. The chemistry just wasn't there. The relationship felt really rushed and felt like it was just put in the story for the sake of being in the story.
This was a very unique spin with magic and contemporary and sisterhood. It was very empowering. I highly recommend it!