Hello my darlings!
I'm here to talk about my favorite things about Fall. Fall is my favorite season EVER so I am quite excited. I'm not much of a summer person. The weather is nice but I don't like doing things and sweating my butt off. I'm not much of a swimmer, lol. Let's get to it!
Crisp Air \\ I love the smell of fall. It just has a certain smell to it. The wind is cooler, the leaves are falling, the rain is coming. There is all kinds of smells in the air and it feels crisp and refreshing. Does that sound weird? I'm weird XD
Changing Leaves \\ I love trees and everything but I love watching them change colors every year. I'm blessed to live in an area where I get to experience all four seasons. Watching the leaves change makes me so happy.
Apple Picking \\ This is something I just discovered this year! I went apple picking for the first time in my life! I loved it. I like the feeling of eating apples that I picked off a tree myself. It was fun going around finding the perfect apples to pick. I don't think my boyfriend was as thrilled but I loved it!
Hay Rides \\ This is a picture of my boyfriend and I in 2018 on a hay ride! I do feel bad for the horses though. I'm not sure why I like them. There is just something special about sitting on a pile of hay and riding around an apple orchard or some place else.
Corn Mazes \\ Here is another picture of my boyfriend and I on the same day from 2018 doing a corn maze. I just think these are so much fun. The one we go to we have to answer questions and if we answer wrong we end up going into a dead end. My boyfriend is 6'2 though so sometimes he can see over all the cornstalks XD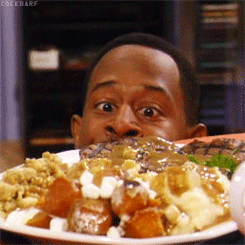 THANKSGIVING \\ This is all caps because I freaking LOVE Thanksgiving. It's my favorite holiday EVER. I love the food and the parades and the family. I love just sitting at home being sleepy off turkey.
Pumpkin Spice Lattes \\ Yes, I am that basic white girl. I love pumpkin spice lattes from Starbucks. I love it with almond milk, no whipped cream, and extra hot. 😀
Hot Apple Cider \\ I don't think I need to say much about these one either. I love hot apple cider. It makes my insides feel all toasty on a cold fall day.
Cozy Sweaters \\ I love being wrapped up in big cozy sweaters.
Blankets \\ Just as much as I love big cozy sweaters, I also love being wrapped up in lots and lots and lots of blankets. ❤
Spooky Movies \\ Okay, so I don't like scary movies but I do love HalloweenTown and Hocus Pocus ❤
Fall Foods \\ You can eat these foods any time but they always seem to taste best in the fall. I love chili and soups and goulash. ❤
Pumpkin Carving \\ These are the pumpkins my boyfriend and I carved last year. I love gutting pumpkins but it grosses my boyfriend out, lol! He's 10 years older than me so I tell him carving pumpkins with me keeps him young. Plus it's just a tradition to carve pumpkins every year. We cannot stop traditions!
My Birthday! \\ Lastly, my birthday falls in Fall. It's October 7th 😀 Although I get another year older, I'm grateful to celebrate every year because we never know if we'll get another birthday. 🙂
---
Is fall your favorite season? What are your favorite things about Fall? Let me know down below 😀